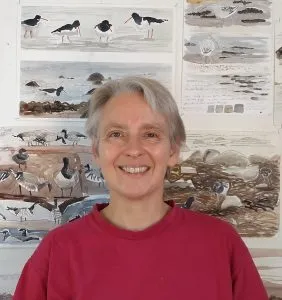 Adele – A little bit about me and my background
Adele studied fine art, painting at Winchester School of Art where she dismayed her tutors by insisting on painting wildlife. The inspiration for all her work is the natural world. Central to this is her ongoing practice of drawing from life. Whether making field trips to Strangford Lough to draw wintering birds through a telescope or clipping magnifiers to her glasses to study insects in her garden, she still insists on drawing wildlife.
Adele has been has been supported with awards and bursaries from the Arts Council of Northern Ireland, Ards and North Down Borough Council and the Society of Wildlife Artists. She has taken part in numerous artist's residencies. Many of these have been wildlife focussed, such as the John Busby Seabird Drawing course and the Ayatana Research Residency "Parliament of Owls" in Quebec, Canada
Adele is currently based at Boom Studios in Bangor. She is an Associate Member of the Society of Wildlife Artists and a full member of the Ulster Watercolour Society.
Find my Work
In Shops
These lovely shops stock my work and that of many other talented makers and artists. If you are local, please support them whenever you can.
Awards
I Have been awarded a number of awards and bursaries that have supported my work, allowing me to travel, take up opportunities, create projects and many other things.
2021 The Great Kit Challenge materials grant from Top Floor Art.
2020 Arts Council funding award under the Individual Emergency Resilience Program.
2020 Really Helping Artists micro grant from the Royal Hibernian Academy.
2020 Ards and North Down Borough Council bursary for residency at The Tyrone Guthrie Centre
2018 Society of Wildlife Artists bursary for The John Busby Seabird Drawing Course.
2018 RSPB Nature in the City Competition – Highly Commended for "Urban Crash Pad"
2017 Ards and North Down Borough Council Residency Bursary for Ballinglen Arts Foundation.
2017 Arts Council NI Travel Award for "Parliament of Owls", Quebec.
2016 Ards and North Down Borough Council Individual Artists Fund.
2009 Arts Council NI Support for the Individual Artist Programme for 'Here Be Beasts', Castle Espie WWT.
2006 Arts Council NI travel Award for 'Through our Eyes', New York.
2002 Pro Art prize for 'In Mulroy Bay' NAPA Annual Exhibition.
Residencies
Residencies, where an artist gets to go away and use a studio space for a time or have experiences and learn in the company of other artists have become an important part of my practice. These experiences are always so valuable.
2020 Tyrone Guthrie Centre, Co Monaghan, Ireland
2020 Parliament of Owls Virtual Residency, Ayatana Artists Research Program.
2018 John Busby Seabird Drawing Course
2018: Ballinglen Arts Foundation, Co Mayo Ireland.
2017 Parliament of Owls, Ayatana Artists Research Program, Quebec, Canada.
2016 The Copeland Art Project, the Copeland Bird Observatory, Lighthouse Island,