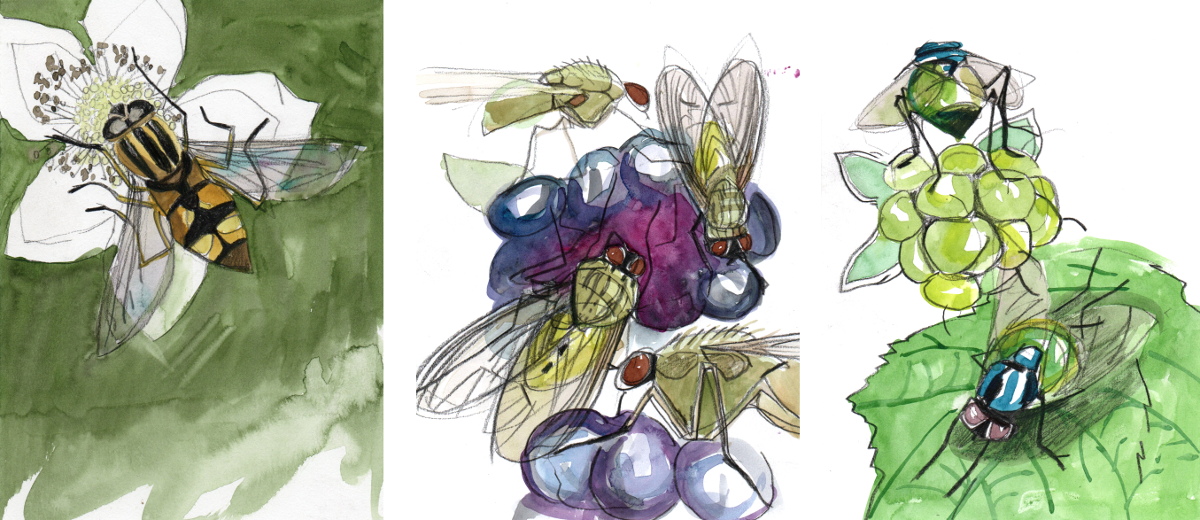 'In the Field'
Sunburst Gallery, Ards Arts Centre
Tuesday 7 June – Saturday 16 July
There will be an informal Wine reception on the evening of:
Thursday 9 June, 7pm – 9pm
all welcome to attend
New solo Exhibition
I am excited to announce that I have a new solo exhibition opening this week. Ards Arts Centre are giving me the opportunity to share a body of new work that I have been developing for a couple of years.
The works I will be showing are all Field studies, that is, they were all made form life in the presence of the creatures they depict. Drawing in this way and experiencing nature directly has always been central to my practice. For this exhibition I wanted , for once, to show a body of work all completed in the Field, with all the scuffs, smudges, coffee cup stains and footprints collected along the way! There are squiggles that went nowhere, my subject having abruptly departed about its Business. In one case slugs ate part of a drawing! The rough and ready nature of these works is a trade off for the immediacy and vibrancy that I am never able replicate in the studio.
These drawings began life as a response to the Covid 19 pandemic. As lockdowns began in 2020, it became clear that I would be unable to make my usual trips out to draw wintering birds. But as the initial shock of the situation subsided and the good weather settled in, I decided to experiment with sketching insects in the garden.
The experience proved eye opening, challenging and refreshing. I was amazed at the variety and abundance of insects and spiders sharing relatively small areas of foliage. The challenges were many. Firstly even seeing animals so small was difficult. Clip on magnifiers and a hand held magnifying glass were promptly ordered on line. Secondly, I know nothing about entymology, so everything I was drawing was new to me and I was unable to put a name to any of the species. I was forced to dig deep into my seeing and drawing skills to try to make sense of the constantly moving tangle of legs, antennae and wings. At the same time this was liberating. Unencumbered by knowledge or preconceptions about the animals before me, I was free to explore what I was seeing and express my excitement at this new experience. As 2021 brought more lockdowns and yet more warm weather, I was back in the garden with my magnifiers, pencils and watercolors braving bites and sunstroke and discovering that bumble bees do indeed have a sting.
Making this work has, in turn, had an effect on me. I have a greater awareness of the invertebrate life all around me, so much so, that even mowing the lawn now seems a gross act of violence! My interest piqued, I have started to explore the role of invertebrates in the ecosystem, their importance for soil health and thereby for carbon storage. This research has recently led me to the even more mindboggling topic of microbes.
Admission free. The Gallery opening hours are:
Tuesday – Friday 10.00am – 4.00pm
Saturday 10.00am – 1.00pm
Sunday and Monday Closed
For more information and directions pease see the Ards Arts Centre website