Now that the dust (and glitter!) has well and truly settled from Christmas, I thought I had better wish you a belated happy new year! January is usually a time for retiring to the back office to have a think and a plan and this year is no different. I have been trying to make some improvements to my website, including a new hosting, which was every bit the headache I expected! Thanks to Boom studios website club for keeping me on track with this!
I am also between three studios, my old home studio, my current very small space in Boom and (at least in my head) a bigger space in Boom that I hope to get into in February or March. Box packing, runs to the dump, trying to persuade fellow artists that they might have a use for my old tat and figuring out how and what to move from A to B to C! Hopefully most of this will be resolved by the end of March.
In between all this, I have been trying to take advantage of the fact that I now live walking distance from the beach by getting out and doing some fieldwork. I would like to get some good drawing days before the wintering birds head north to breed. Above is one of my first efforts, a lovely stonechat I watched feeding in the heaped up seaweed at the top of the beach!
But in the meantime, things are already getting quite busy! This weekend I will be doing my first fair of the year in Belfast and two group exhibitions are opening in February which mean I have to put the studio packing aside and turn my attention to them!
---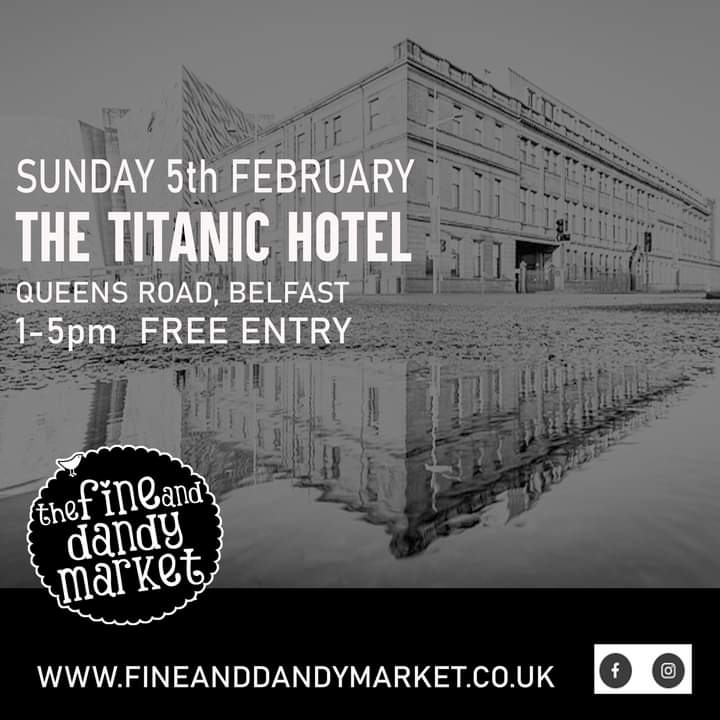 Fine and Dandy in the Titanic Hotel
The Fine and Dandy Market is at long last returning to Belfast and I am very happy to be taking part in the first one. They are starting big with the Titanic Hotel. You can find me there with my paper birds on this coming weekend Sunday 5th February. Table 38, Drawing room one!
Sunday 5th February
1- 5pm
Titanic Hotel Belfast, 6 Queens Road, Belfast, BT3 9DT
Find out more…
The Fine and Dandy Market
The Titanic Hotel
---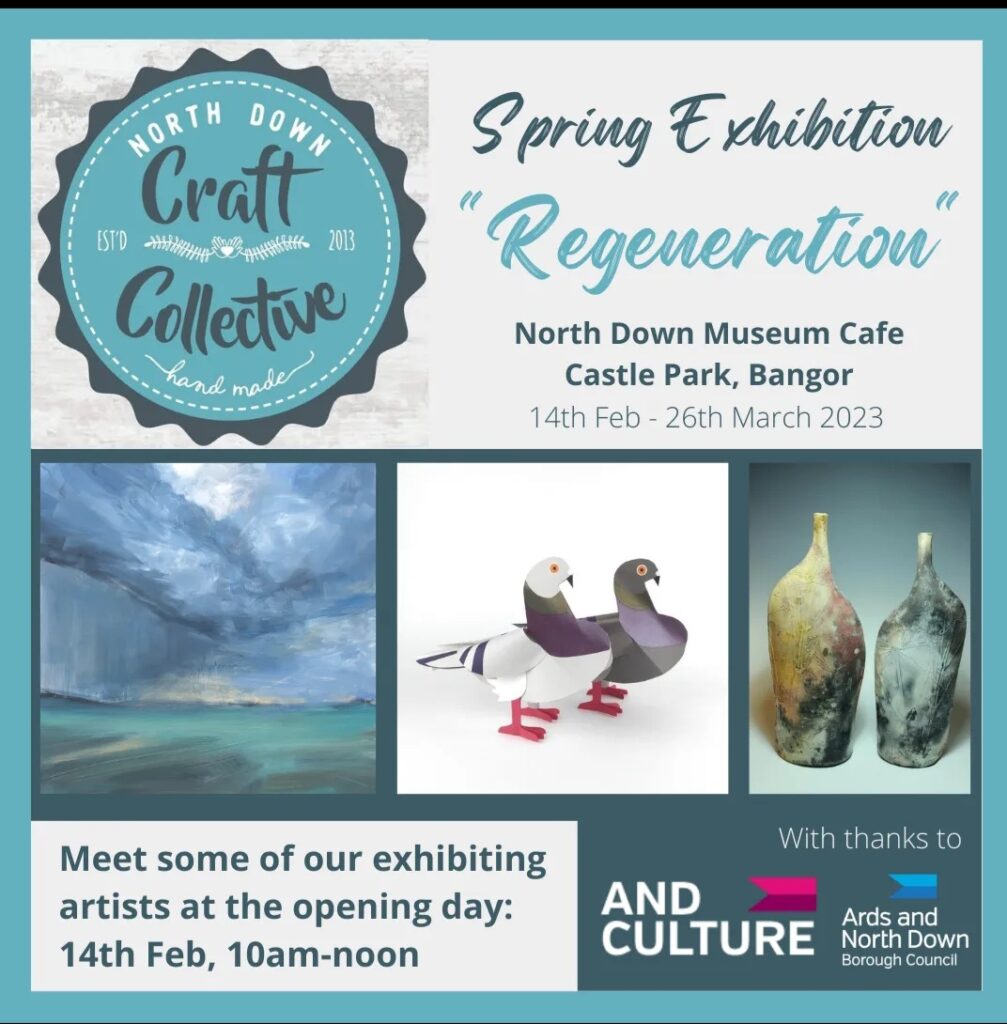 A Valentines Day Opening in Bangor
the North Down Craft Collective are once again organising a spring exhibition to showcase the wealth and diversity of talent and skills that their group has. North Down Museum are kindly hosting us in the Coffee Cure cafe space.
The show opens on 14th February and some of the artists, myself included, will be there that morning for an informal opening. You are most welcome to pop in,  meet the artists, peruse the artwork and have coffee all in one place!
'Regeneration'
14 February – 26 March
North Down Museum Cafe, Castle Park, Bangor, BT20 4BT
Informal opening:
Tuesday 14 February 10am – Noon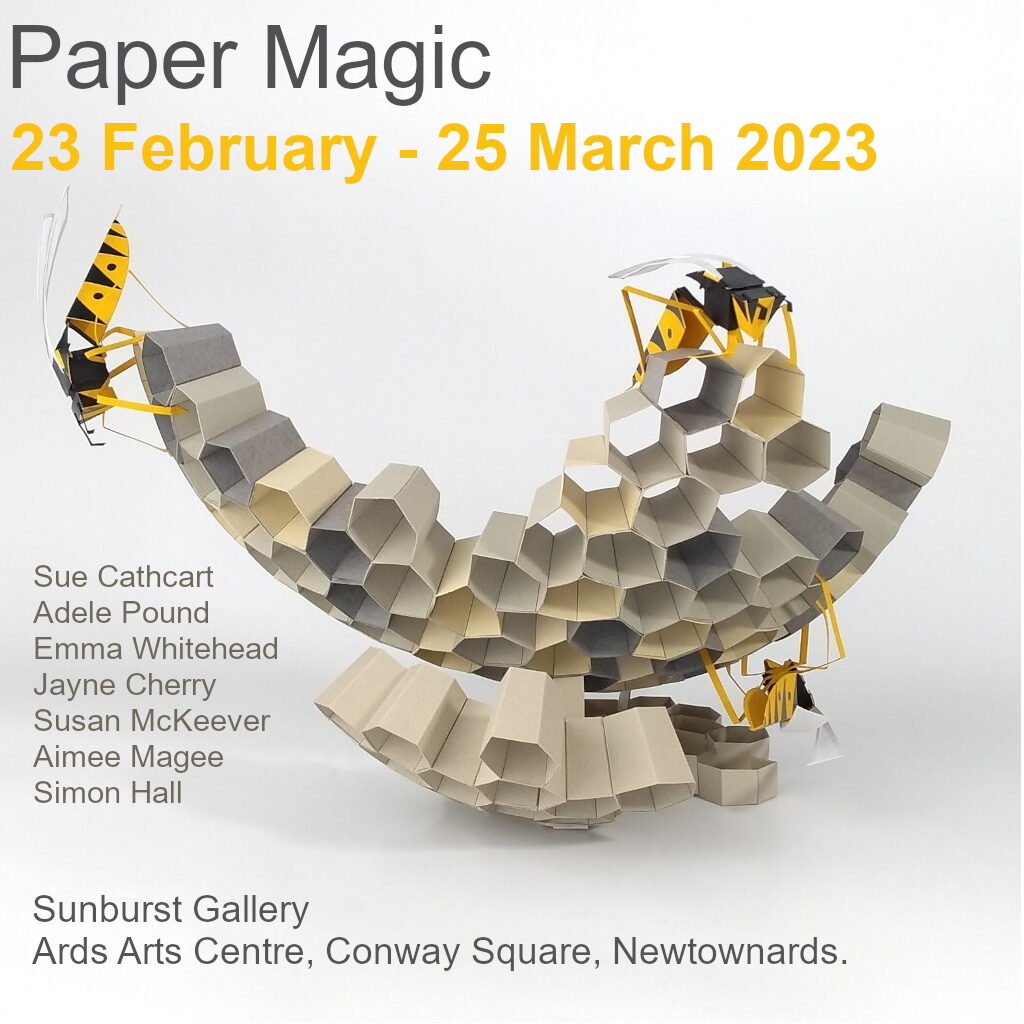 The Hypno Bunny Returns!
If you missed the Paper Magic exhibition in October at Craft NI, Fear not, for we are going to do it all again! Paper Magic will be at the Sunburst Gallery in Ards Arts Centre Fom 23 February until 25 March.
If you did catch us in Belfast, do check the show out again as there are a few changes. We have two new exhibitors joining us – Aimee Magee and Simon Hall. Since a couple of my pieces from the first show sold, I will be exhibiting a few of my Catalan Butterflies pieces that were created as part of a collaboration with poet Laurence O'Dwyer. That collaboration came about as as result of my being awarded a bursary from Ards and North Down Borough Council for a residency at the Tyrone Guthrie Centre, so I am pleased to have the opportunity to show part of that work here. 

We would like to invite you to join us for a opening preview of the show on Thursday 23 February from 7pm until 9pm.
Paper Magic
23 February – 25 March
Sunburst Gallery
Ards Arts Centre, Conway Square, BT23 4NP
Opening Preview: 
Thursday 23 February 7pm – 9pm.
Find out More…
Ards Arts Centre
---
Birdwatchers in the Tourist Office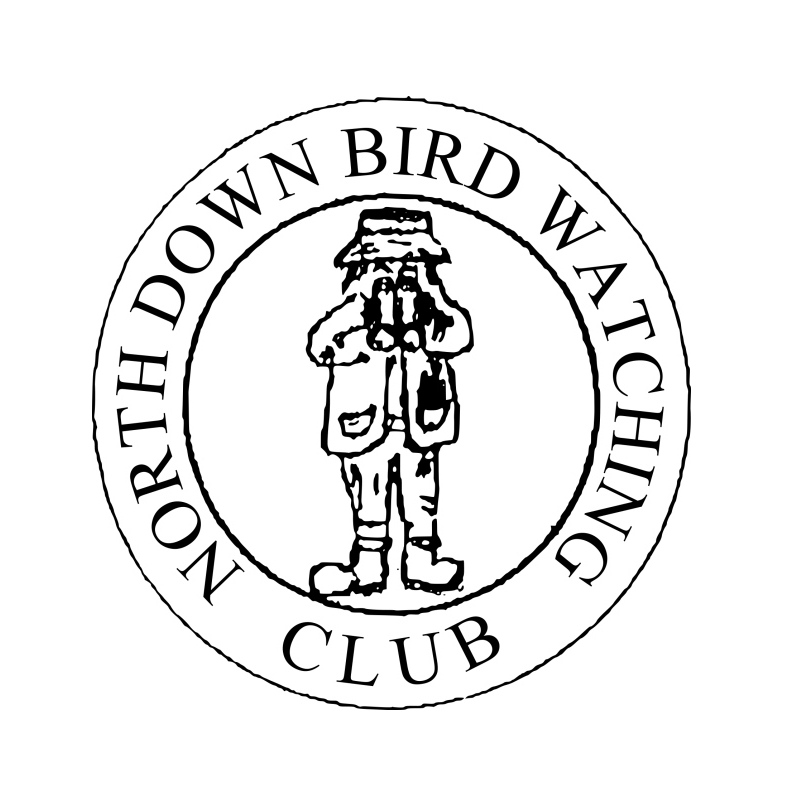 And finally, during March, North Down Birdwatching Club will be having a display in Ards Tourist Information Centre to promote the club and the bird life of the local area. Along with other club members, I will be contributing a few bits and pieces. We have some talented photographers in the club, so do pop in and have a look if you are passing!
Ards Visitor Information Centre
1 – 31 March
31 Regent Street, Newtownards, BT23 4AD
Find out more…
Newtownards Tourist Information Centre